Aug 29, '23 | Written by Scott Crumpler
The National College Testing Association's Annual Conference is an event we look forward to every year, because it's a chance for us to connect with professionals who truly understand the value of secure testing in Higher Education. This year's conference in Las Vegas was no exception. In the age of remote work, remote learning, and remote testing, this was a rare opportunity to meet face to face with new and old customers alike and to talk to the unsung heroes of Higher Ed about the challenges they face and the solutions they're seeking.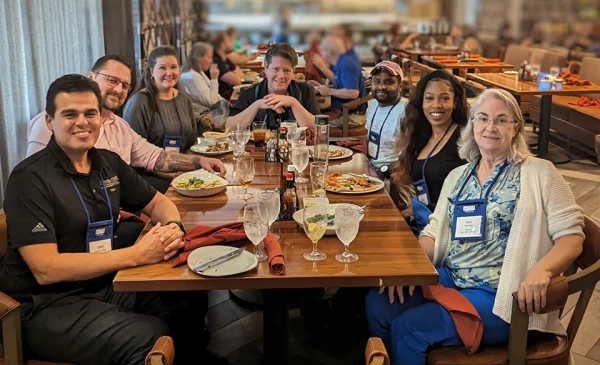 The Proctor360 team got the chance to spend lunchtime on Day 1 of the Conference with our customers from Texas State University.
The Threats From AI and the Need For Hybrid Testing Services
Two major topics of discussion throughout the conference were the growing threat that generative AI tools like ChatGPT pose to remote testing and how Testing Services departments can use technology to adopt hybrid testing models to administer exams both in-person and online. This year's keynote speaker, Derek Newton, publisher of The Cheat Sheet, delivered an engaging address on the challenges posed to academic integrity when testing online and highlighted some eye-opening statistics on the ubiquity of services like Chegg that students are using to cheat on exams and assignments.
While remote learning and testing are certainly here to stay, these discussions make clear just how high the stakes are for Testing Services departments in Higher Education. To stay ahead of the curve, they need new proctoring techniques and more powerful technology tools that can enable them to prevent academic misconduct.
There were multiple sessions during this year's conference that explored ways college testing centers can become self-supporting and best practices for remote exam delivery and proctoring. The integrity of crucial exams that a student takes throughout their college career relies on the trust and security with how those exams are administered. To sustain this as more and more testing goes remote, Testing Services departments are seeking solutions and tools that will empower them to adopt hybrid testing models. That way, these "unsung heroes" of academic integrity can remain engaged, well-integrated figures in Higher Ed well into the future.
The Ultimate Remote Proctoring Tool For Testing Centers
Our presentation on Wednesday morning was incredibly well-attended, and it was clear that Testing Services teams are on the hunt for software that will enable them to proctor students remotely with greater security, manageability, and efficiency. The ad hoc solutions that involve using video conferencing apps simply isn't secure enough or efficient enough for remote proctoring at scale.
Proctor360's Institutional SaaS remote proctoring platform is cloud-based software designed specifically for proctoring online exams with features that make remote test administration more efficient and easier to manage. We covered some of the core features of our platform like student scheduling and registration, automated student check-in with proctor approval, multi-session proctoring with individual student recordings (no big "breakout room" nonsense here), live text and audio chat between the proctor and student, and more.
These features make our platform the ultimate remote proctoring tool for Testing Centers that want to adopt hybrid testing. But let's face it. Virtually every virtual proctoring company captures a webcam and screen share. And Testing Services pros know that just isn't good enough for some exams. That's why our platform, in addition to standard Single Webcam proctoring, ALSO offers Multi-cam Proctoring that requires the student to connect their cell phone as a SECOND camera view during check-in.
The Multi-cam option is particularly useful for STEM-related and high stakes exams where proctors need to SEE MORE of the remote testing space than a single webcam can capture. It enables you to capture a view of the student's desktop, see from behind the student, or virtually any other angle you wish to monitor during the exam. The best part of all is that it does not require the student to download or install ANYTHING on their mobile phone. All they do is scan a QR code on their monitor during the check-in process and it opens a page that asks them to enable their camera. This secondary view is then connected to their exam session along with the webcam, screen share, and audio. When we demonstrated this feature live during the presentation, the reaction from the attendees was incredible.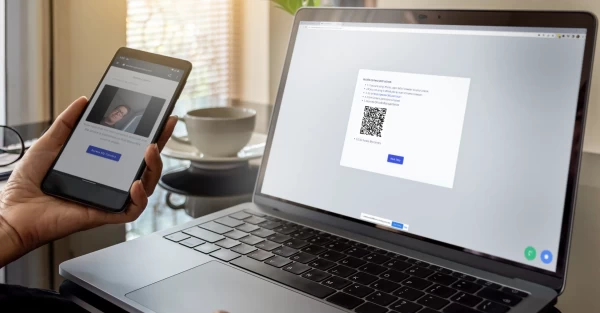 A Path To Self-sustaining Hybrid Test Center Operations
Not only is Multi-cam a more secure way to proctor online exams, but as a feature of our remote proctoring platform, Testing Services departments can now offer added value to their institution that provides a service not available from the college's standard remote proctoring vendor. And with all other proctoring types also available on the platform (AI and Single Webcam), college Testing Centers can provide virtually proctored testing for organizations in their community outside of their institution as well.
Proctor360's mission is all about making education and advancement more accessible for learners everywhere, and to achieve that goal online testing must have the same integrity and credibility as exams taken by students in a traditional testing center. That's why we're proud members of the NCTA and why we've developed our platform with college test centers in mind. With Pay-As-You-Go pricing options to get started and subscription tiers you can grow into as you scale your online testing operations, we make it as easy as we can to adopt the right tool for the job. The response from this year's conference lets us know we're getting something right.
Final Thoughts
Whenever we sponsor a conference, it always feels like a whirlwind endeavor. We don't just set up signs and sit at our booth. We're the ONLY remote proctoring company that runs the software live in the exhibit hall every day so you can see exactly how it works and the features that enable you to make online testing more secure. We plan and prepare for weeks in advance, and then, once we're there, it seems to go by in a flash. This year we met lots of testing professionals that didn't make it to last year's conference, and we got to chat face-to-face with several of our current customers and express our appreciation to them for their support. The NCTA members are "our people", and we work hard to learn from their insights into testing challenges and to make our product a better tool for them to use. As we spend the next few weeks following up with all the test centers who were impressed with our platform and want to take advantage of it, we can promise you this: We'll keep at it every day with all the unsung heroes of testing in mind as we work for shared success.