May 05, '23 | Written by Scott Crumpler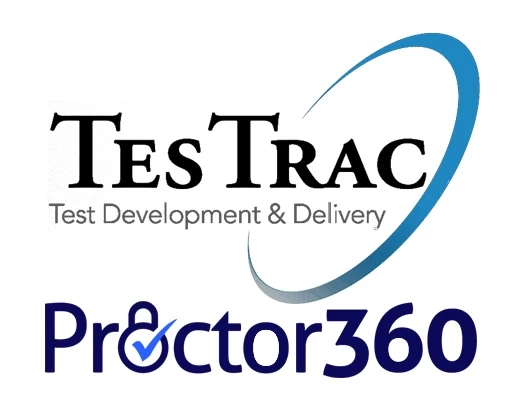 Proctor360, a leading provider of remote proctoring solutions for online testing, is proud to announce its strategic partnership with TesTrac, a renowned online test delivery platform for high-stakes exams. This collaboration aims to transform the online testing experience by offering fully integrated remote proctoring options for exams delivered on the TesTrac platform.
Through this seamless integration, Proctor360 and TesTrac will provide a comprehensive solution that includes built-in scheduling, registration, test session monitoring, and exam delivery. The partnership ensures that test-takers have a secure and user-friendly experience while maintaining the highest standards of exam integrity.
Key features of the Proctor360 and TesTrac integration include:
Flexible Proctoring Options: Proctor360's advanced technology provides a range of proctoring solutions, allowing organizations to select the most suitable option for their specific needs– including the exclusive 360 Total View proctoring service which captures a complete view of the test candidate's environment.
Powerful Candidate Management: A CMS that handles test candidate registration, eligibility, e-commerce, and reporting in one easy-to-use interface.
Streamlined Scheduling and Registration: Test-takers can effortlessly schedule and register for exams through the TesTrac platform, ensuring a smooth and hassle-free experience.
Real-Time Test Session Monitoring: Proctor360's experienced proctors monitor exam sessions via multiple views, providing immediate response to potential cheating and exam content theft.
Psychometric Data Collection: TesTrac takes care of the often arduous task of collecting question bank performance and psychometric data and displaying it in an easy-to-use exploratory tool via a web-based dashboard.
Reliable Exam Delivery: 25 years of continuous innovation and feature enhancement for online testing guarantees a seamless exam delivery process that many professional associations trust for its stability and performance.
"We are thrilled to partner with TesTrac and offer our state-of-the-art proctoring solutions to a wider audience," said Kranthi Bathula, Chief Technology Officer at Proctor360. "This integration allows us to combine our innovative technology for remote proctoring with TesTrac's exceptional test delivery platform, providing organizations with a secure, efficient, and user-friendly solution for high-stakes online exams."
Douglas Odell, CEO of TesTrac, added, "When we launched TesTrac it was the Internet's first full scale test engine, and we're now in Version 11. Our collaboration with Proctor360 reinforces our commitment to delivering a secure and reliable online testing experience for all our customers. By integrating Proctor360's advanced proctoring technology with our platform, our clients now have options for AI and live proctoring that capture more of the test candidate's environment to ensure the highest levels of exam integrity."
About Proctor360
Proctor360 provides an End-to-End solution for proctoring exams online delivered by robust test publishers and platforms. With a range of flexible proctoring options that include the ability to capture multiple camera angles during a test session, Proctor360 is committed to delivering secure, user-friendly, and scalable solutions for organizations and professional associations worldwide. Their clients include academic institutions, professional certification organizations, pre-employment skills assessment providers, and the U.S. Department of State.
About TesTrac
TesTrac is a leading online test delivery platform that specializes in high-stakes exams for professional certification organizations, government institutions, and businesses. TesTrac Online™ was the first online testing platform to support webcam-based live proctoring and currently supports 39 languages for test delivery. With a focus on security, reliability, and ease of use, TesTrac provides a comprehensive solution for managing and delivering exams in a seamless online environment.