Mar 22, '23 | Written by Scott Crumpler
Last week, the Proctor360 team was in full force in Dallas, Texas for the Association of Test Publishers "Innovations In Testing" annual conference. It was a fantastic event that hosted attendees from professional associations worldwide and innovative leaders in new testing science and technology. Our own Chief Technology Officer, Kranthi Bathula, was a panelist for a debate on the virtues and challenges to using Artificial Intelligence in remote testing, and we got to meet face-to-face with several existing partners and customers while forging new connections and showing off our own innovative platform for remote proctoring.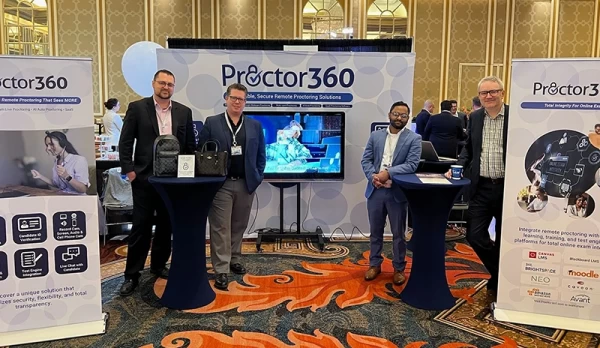 Introducing "Test Center Grade" security for remote proctoring
It takes a lot of work and planning to attend and exhibit at conferences like these, but as members of several important organizations like the ATP, we see it as an opportunity to connect, to learn, and to introduce our platform to new users. Innovations in Testing was no exception. Even as Proctor360 continues to grow quickly and achieve wide brand recognition in the industry, we're still surprised just how many professional certification bodies and test publishers still think all remote proctoring companies are essentially the same. This was a great opportunity to show them how very different our End to End solution truly is.
At our booth in the exhibitor hall, we were the only remote proctoring company running our software live in real time from multiple computers to show off our platform's unique security features for online exam sessions. Let's face it; virtually every remote proctoring provider relies on a single webcam view and screenshare. But that's what makes Proctor360's platform special. In addition to AI Auto Proctoring and standard Single Webcam Live services, we also offer two higher levels of secure monitoring for high stakes exams: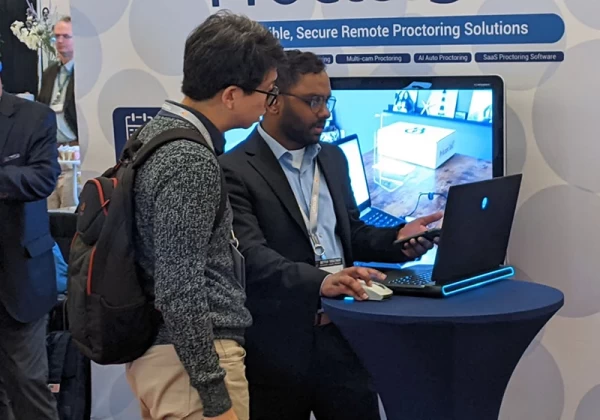 Multi-cam Live: Capture MORE with the candidate's cell phone
A single webcam only let's you look at the test taker during the session. But virtually every test candidate owns a cell phone, and Proctor360's Multi-cam Live service requires the candidate to connect their cell phone as a secondary camera to capture an additional view of the remote testing space. This not only provides greater security for the remote test session by pointing a second camera at anything you might want to monitor (the desktop, the view of the candidate's monitor and the area behind it, etc) but it also prevents the attempted use of that cell phone during the session to cheat on the exam.
This solution is an excellent option for high stakes exams where a single webcam view simply isn't enough to prevent misconduct during an online exam session. Because cell phones are so ubiquitous, it's an affordable and easy-to-deploy solution for online testing, and Proctor360's Multi-Cam Live service does not require the candidate to install any software on their phone in order to use it.
360 Total View™: COMPLETE Security for online exams
Physical testing centers still represent a large portion of the certification testing space, and for good reason. Some exams are too important to be delivered remotely if you can't ensure the candidate doesn't cheat. The stakes are simply too high for some exams.
But what if you could bring the test center-- with all that added security-- right to the candidate's home? That's where 360 Total View™ comes in. For high stakes certification exams, Proctor360 has designed a patent pending headset that incorporates a 360-degree webcam, earphones, and microphone which is shipped to the candidate when they register to take an exam online. The headset, combined with their standard webcam, screenshare, and audio, captures a COMPLETE view of the remote testing environment for true "Test Center Grade" security.
Now, not only can you secure the entire testing space and see everything the candidate sees and does during the exam, but you have a complete recorded record of that individual's test session that not even physical testing centers can provide.
What was the reaction?
In a word: Amazement. Many test publishers and certification organizations were completely "wow'ed" when they saw our software working in real time and all that it can capture during an online test session. Our platform which can be integrated with virtually any test engine, offers truly the most secure way to deliver critical exams online, and we were gratified to see what an impact it made on everyone we showed it to at the conference.
Other key takeaways
We approach every conference we attend as an opportunity to learn from our customers and others about the challenges they experience and the obstacles they encounter with remote testing. This is what drives our product development and all the new solutions we create, and the ATP conference was no different.
In addition to better security, we also heard from many that customer support is a major concern with their current remote proctoring providers. When test candidates experience technical issues or when an organization simply can't get any useful answers from their test publisher or proctoring vendor, it creates a lot of problems. We're especially sensitive to that, and it's why, in addition to 24/7 online US-based support, our platform actually features an audio call function that lets the candidate communicate directly with their proctor if they ever run into any issues.
Another major concern we heard about a lot is exam content theft. Certification organizations and professional associations spend a great deal of time and money to develop credible exams, and content theft is a major threat to the credibility of the certifications they offer-- and one that is costly to defend against. Obviously, remote proctoring that sees MORE allows proctors to catch more of these incidents when they occur, and direct integration with the test engine enables our proctors to stop an exam session the instant they detect this is happening. But we're not stopping there. Proctor360 is actively engaging a technology partner that will allow OUR platform to scan the web daily for any content from our customers' item banks that may be published online -- EVEN if the content has been paraphrased or re-worded using AI. This will enable our certification customers to take immediate action whenever their content gets leaked. This is just one of many new solutions Proctor360 is pursuing in order to provide a true end-to-end solution for online test security, and you can be sure we'll be telling you more about this in the future.
And finally, our thanks...
The folks at the Association of Test Publishers and all of their volunteers work diligently to put together a truly amazing conference that was informative, fun, and rewarding. To all of them, and to our partners and all the wonderful, dedicated professionals we met last week in Dallas, we thank you for being part of a terrific conference. We hope you all had a great experience, and we hope you'll reach out to us as you settle back into your daily routine so that we can continue to explore ways to make each other better in the world of testing.