Oct 31, '23 | Written by Scott Crumpler
Proctor360, a leading provider of remote proctoring solutions, is honored to announce its selection by M&R Audit Group as the official proctoring platform for the International Association of Drilling Contractors (IADC) WellSharp Live certification exam. This prestigious designation underscores the recognition of Proctor360's robust, secure, and user-friendly platform in administering high-stakes exams in the energy sector.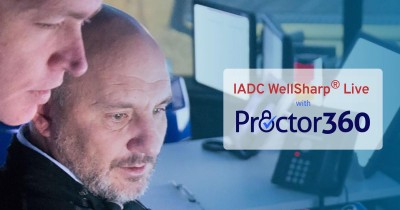 The WellSharp Live program, developed by the IADC, delivers rigorous, individualized training to professionals with well control responsibilities. It is a virtual instructor-led training option that maintains the same quality and integrity as its predecessor, WellSharp, providing trainees with in-depth knowledge and role-specific skills crucial for managing well control​. The program has evolved into a long-term offering from a solution initially launched in response to the COVID-19 pandemic's social distancing and travel restrictions​​.
Major energy companies including ExxonMobil, BP, Chevron, Valaris and Precision Drilling, which are members of the IADC, accredited WellSharp Live training providers and are members of IADC's WellSharp Advisory Panel. The goal of the WellSharp Advisory Panel is ensuring a high standard of safety and competency within their workforce. This certification is integral in promoting a culture of safety and operational excellence within the drilling industry.
The collaboration with M&R Audit Group and the implementation of Proctor360's technology will further bolster the integrity of the WellSharp Live certification process. By employing advanced security features like real time human proctoring, discreet recordings for each session of the test candidate's webcam, screen activity, and audio, Proctor360 ensures that the integrity of the exam is upheld, providing a reliable and secure environment for candidates to demonstrate their competency​.
Gerardo Barrera, the Assistant Director for Accreditation at IADC, commented, "The partnership with Proctor360 is a significant stride towards upholding the high standards of WellSharp Live certification. Their advanced proctoring technology ensures a fair and secure examination process, reinforcing the integrity of our certification in the industry."
Management at M&R Audit Group stated, "We are confident that Proctor360's platform will deliver a seamless and secure examination experience for WellSharp Live candidates. Their technology is instrumental in maintaining the integrity and trust associated with IADC's certification process. It is the only platform we feel would empower us to easily manage live proctored exam sessions with such a flexible, cloud-based solution."
Ganga Bathula, CEO of Proctor360, expressed, "We are thrilled to collaborate with M&R Audit Group and the IADC in elevating the standard of certification in the drilling industry. Our technology is geared towards ensuring that every candidate is provided with a fair and secure environment to assess their skills and knowledge. This partnership is a testament to our commitment to delivering excellence in remote proctoring services."
For more information about the IADC WellSharp Live program, visit IADC WellSharp Live. To learn more about Proctor360's remote proctoring solutions, visit Proctor360.